2021 District Conference
Northern Ohio District Conference postponed until 2021

The Northern Ohio District Conference Central Committee (the group responsible for planning our District Conference) met May 19th. After much prayerful discussion, the decision was made that District Conference will not be held this year. We will meet again for District Conference in 2021. The 2020 conference theme, speakers, and Central Committee officers will all be carried forward to the 2021 District Conference.

Concerns about holding a large gathering in light of the COVID-19 restrictions/ recommendations and, even more so, concerns about putting brothers and sisters at risk, weighed heavily in the decision. Multiple options were discussed, but after working through each one, the unanimous decision was made to postpone the entire event until 2021.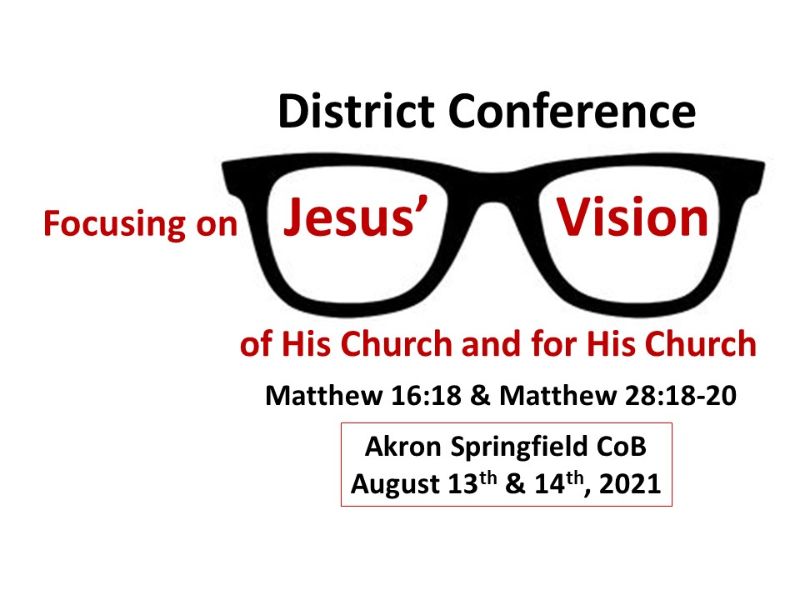 District Conference Officers/Central Committee:

Moderator, Brad Kelley – 2022 (East Chippewa)
Moderator-Elect, Brian Layman – 2023 (Hartville)
Past Moderator, Doug Price – 2021 (Elm Street)
Clerk, Nancy Jacobsen – 2021 (Mount Pleasant)
Michael Huffaker – 2021 (Sugar Creek West)
Fern Dews – 2022 (East Nimishillen)
Christine Harkless – 2023 (Elm Street)
Conference Resources