Youth
The Northern Ohio District has many opportunities for youth to gather together. Events are planned year-round and everyone is welcome! So bring your siblings, your cousins, your friends, your classmates, your church group, and anyone else who might be interested, because the more, the merrier!
Age Groups
Junior High: 6th-8th graders
Senior High: 9th-12th graders & first year out of high school
Upcoming District Events
Due to COVID-19, most Youth events will be held virtually. We are monitoring the situation for when in-person events can be safely planned, and those events will practice safe social distancing.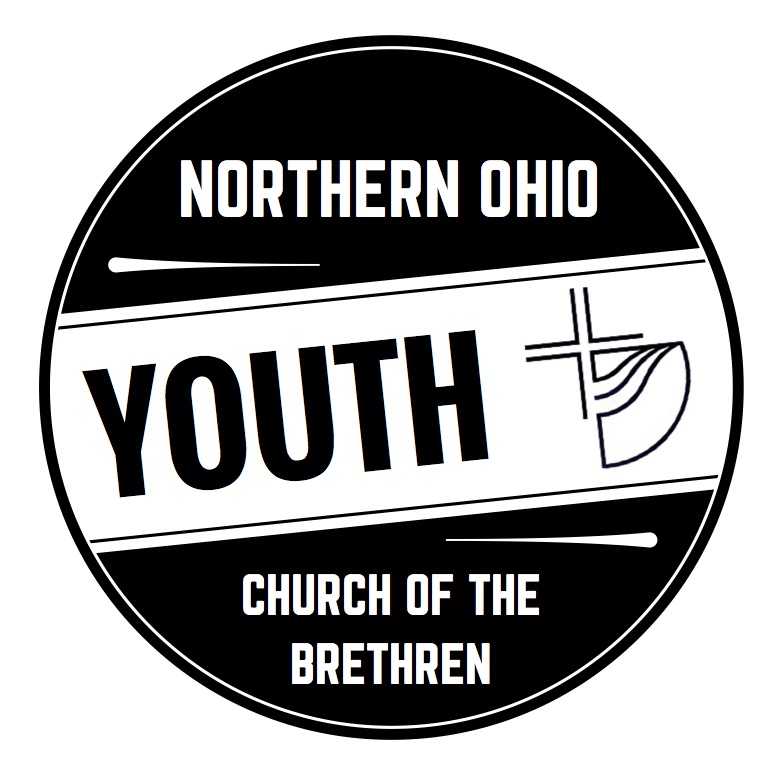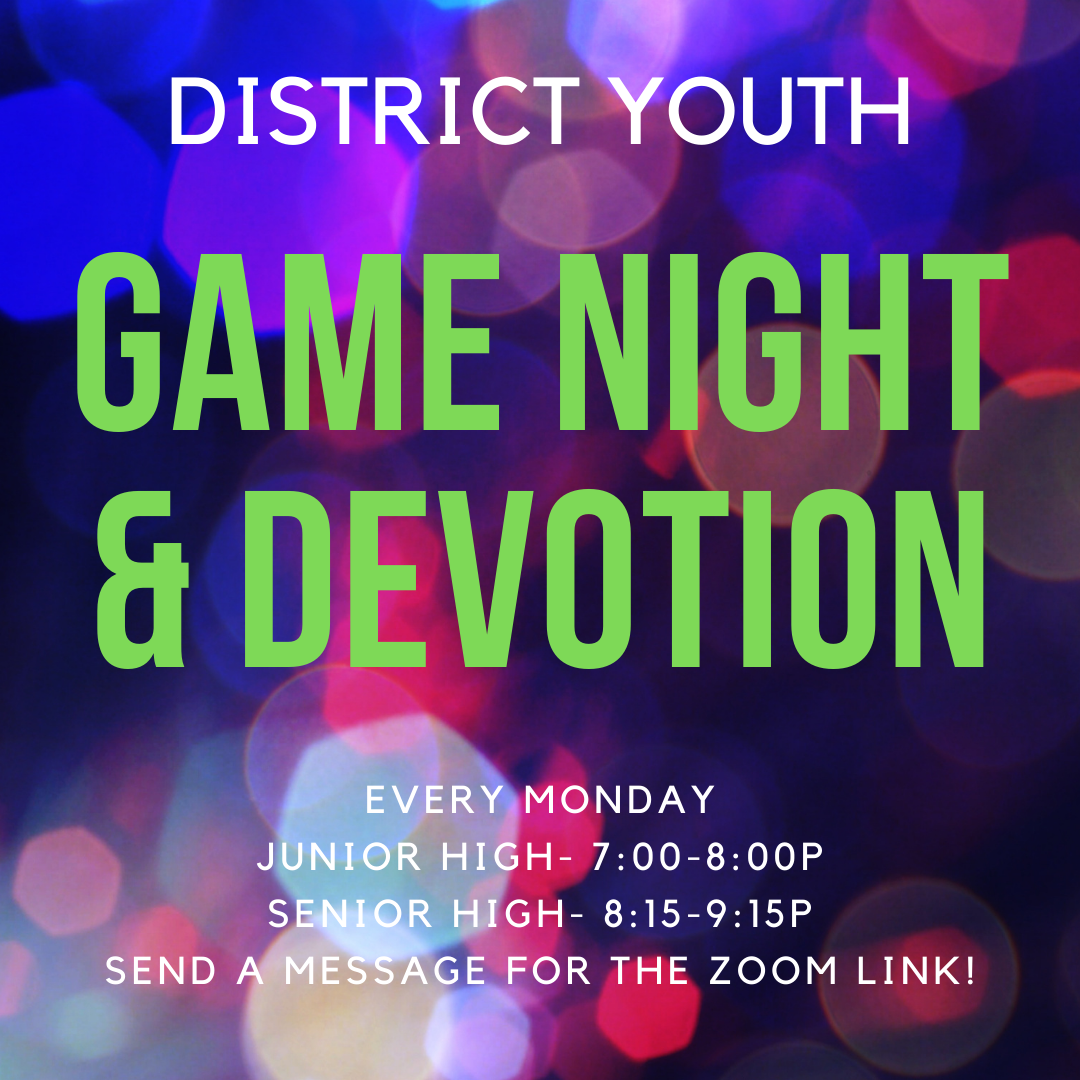 Youth Zoom Game Night & Devotion - Every Monday Night
Join us for online every week over Zoom for interactive games and a devotion! Contact Jenny for the login information and link. FYI - sometimes two devices are needed, one for Zoom and one for a game controller.
Who:
Junior High & Senior High
When:
Every Monday night
Junior High- 7:00-8:00p
Senior High- 8:15-9:15p
Cost:
FREE!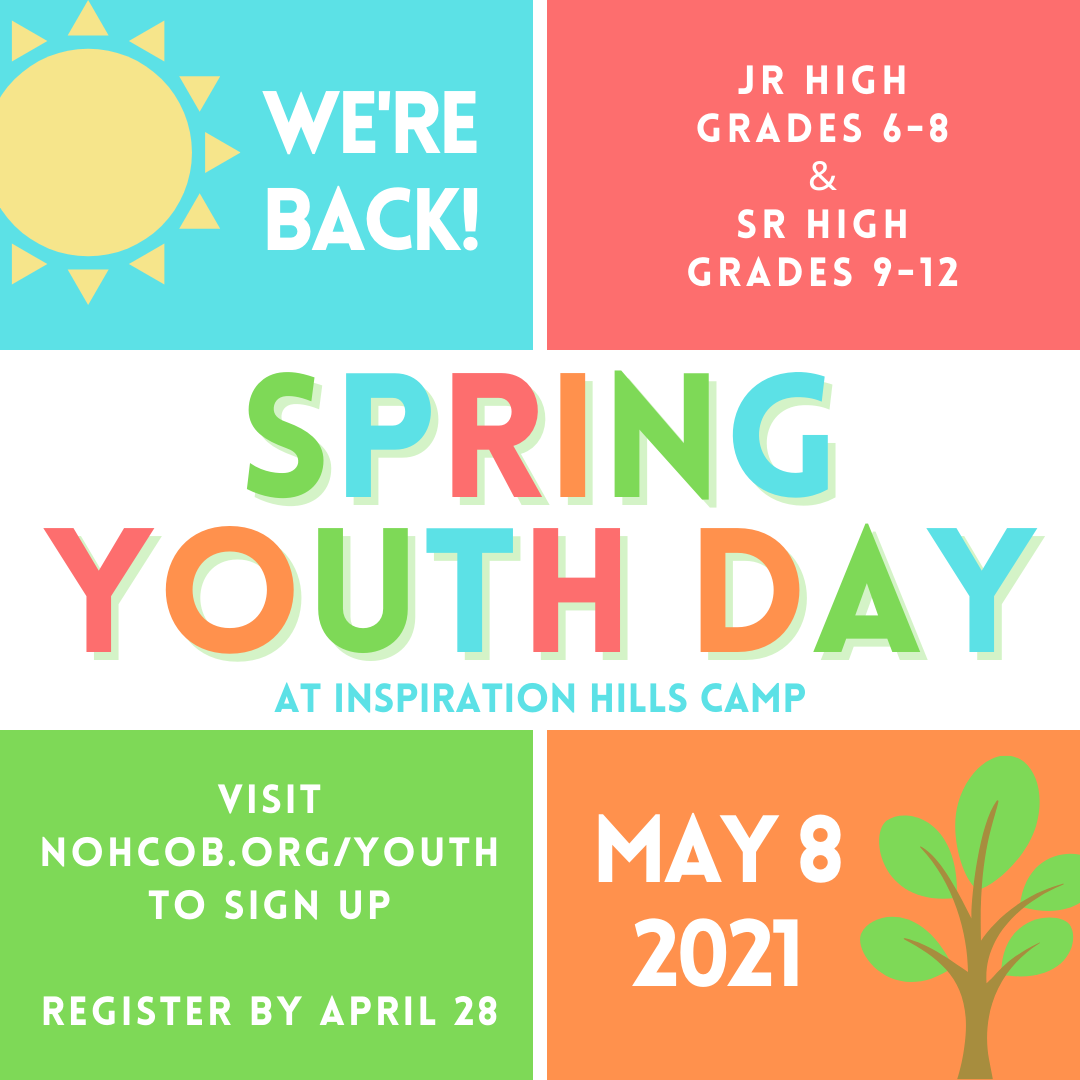 Spring Youth Day - Saturday, May 8, 2021
We're back in person! Join us for our Spring Youth Day at Inspiration Hills. We'll have some fun at camp with lots of games, a service project, campfire, and worship. We'll be outside most of the day and will follow Covid safety precautions.
Who:
Jr High & Senior High
Cost:
$5
Registration:
Click here to register!
The event will be limited to the first 35 participants.
Last day to register is Wednesday, April 28.
Upcoming Denominational Events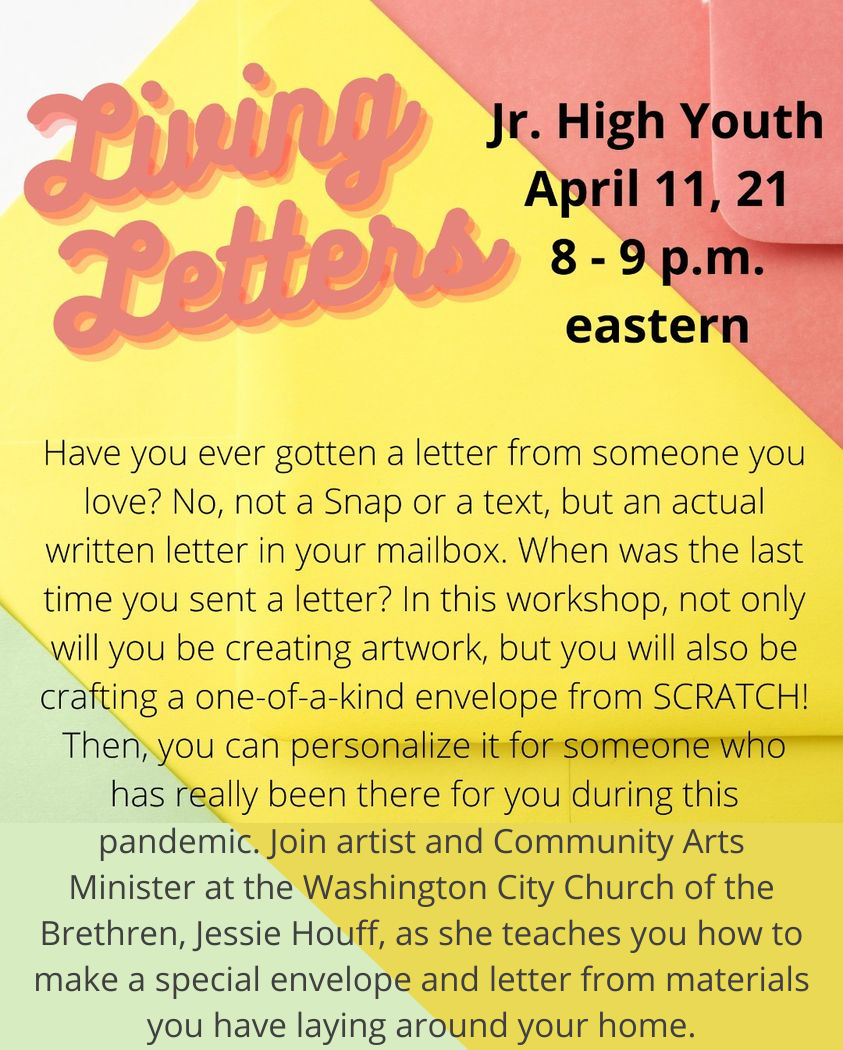 Living Letters Workshop - Sunday, April 11, 2021
Want to learn how to make cards, letters, and envelopes? Learn to make these at the Living Letters Art Night! Join Jessie Houff, Community Arts Minister at Washington City Church of the Brethren as she teaches how to make these with items from around your house.
Who:
Junior High
When:
Sunday, April 11 at 8-9p
Register here: http://ow.ly/2rEU50EhfKK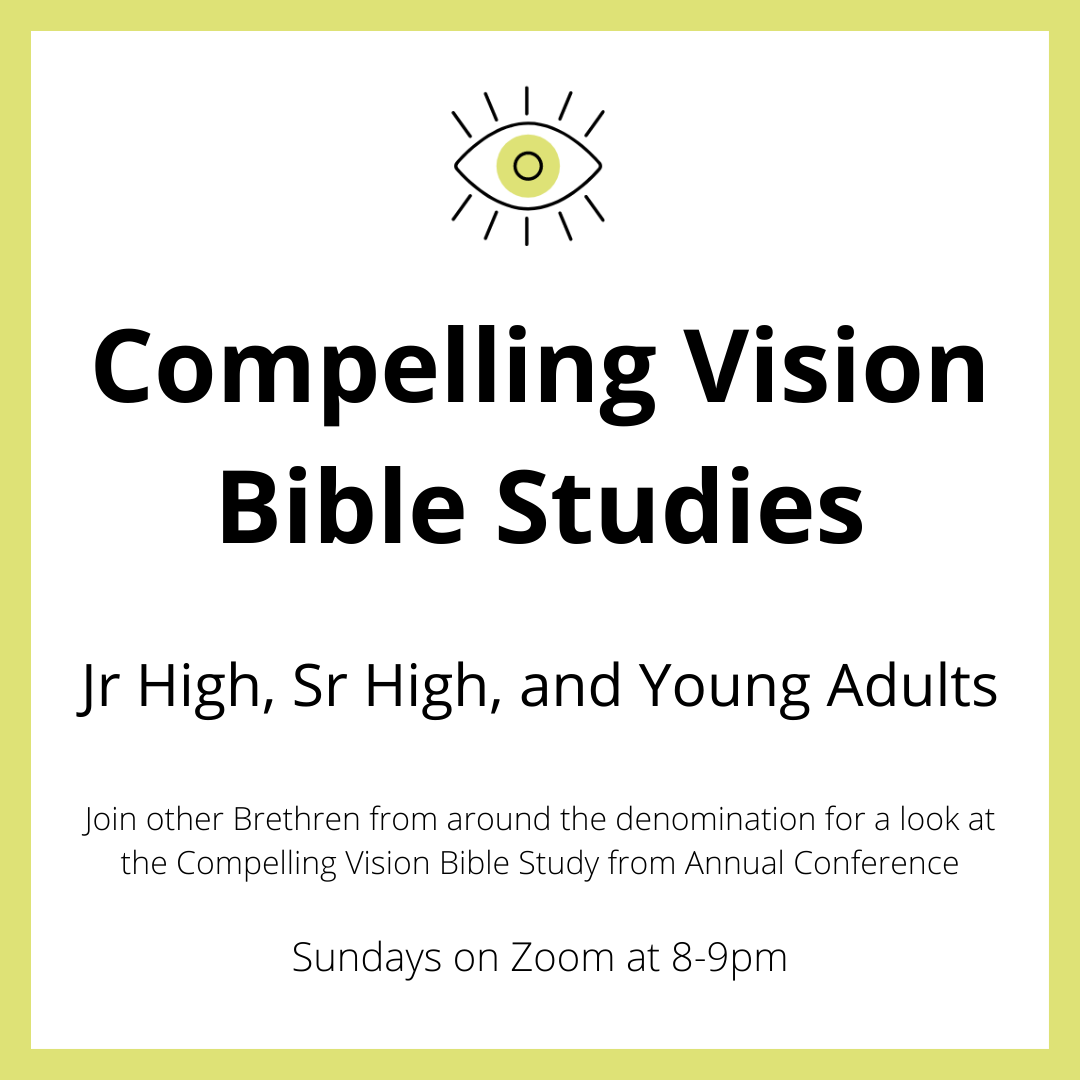 COB Compelling Vision Bible Study - Sunday Nights
Hosted by the Church of the Brethren Youth & Young Adult Ministry office, join us for a Bible study series about the denomination's Compelling Vision.
To preview the study, visit: Compelling Vision Bible Study
Who:
Junior High, Senior High, & Young Adults
When:
Sundays at 8-9p
Next Session
Sunday, April 18 at 8p
Bible Study #5 - Radical Transformation with Pastor Thomas Dowdy from Imperial Heights Community COB in Los Angeles, CA.
Register here: http://ow.ly/9jHh50EbFVp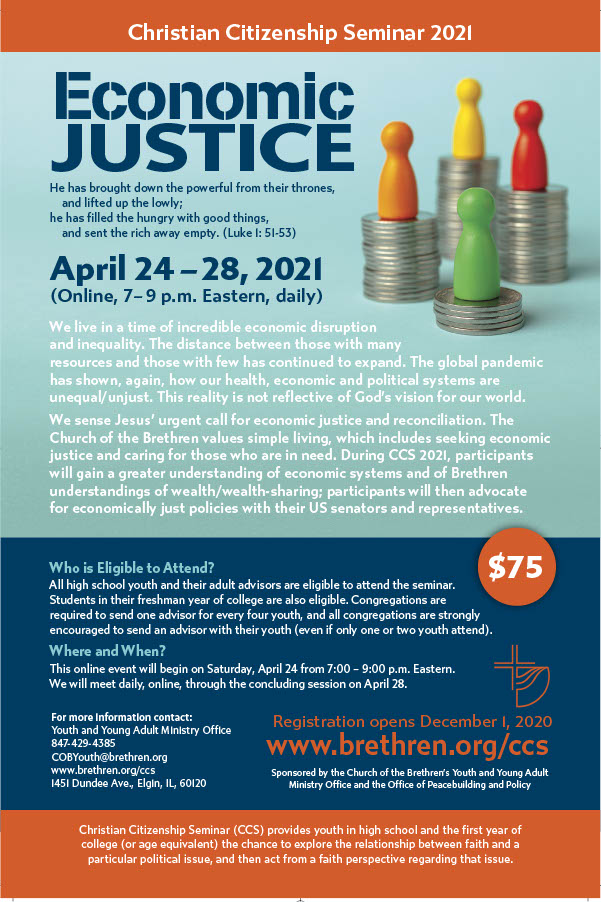 Christian Citizenship Seminar - April 24-28, 2021
Each year, Christian Citizenship Seminar is an opportunity for Church of the Brethren youth to gather and explore the relationship between faith and a particular political issue, and then act from a faith perspective regarding that issue. In 2021, CCS will focus on pursuing economic justice in response to the pandemic, wealth gap, and Jesus' call for simple living. This year's event will be virtual.
If you have any questions or would like to sign up, contact Jenny.
Who:
Senior High & 2020 HS Grads
When:
April 24-28, 2021
Online sessions each night: 7-9p
Cost:
$75
For more information and registration, visit: https://www.brethren.org/yya/ccs/
Get Involved!
There's always something going on! Start planning ahead for these events hosted by the district, the Church of the Brethren Youth & Young Adult Ministries Office, Inspiration Hills Camp, and FaithX (formerly Church of the Brethren Workcamps).
Junior High Events:
Summer - Junior High Camp @ Inspiration Hills Camp : June 20-25, 2021
First Sunday of November - National Junior High Sunday : November 7, 2021
Every other Summer - National Junior High Conference : on hiatus in 2021, will return in 2023
Senior High Events:
Spring - Christian Citizenship Seminar : April 24-28, 2021 (online)
First Sunday of May - National Youth Sunday : May 2, 2021
Summer - Senior High Camp @ Inspiration Hills Camp : June 20-25, 2021
Every 4th Summer - National Youth Conference @ Colorado State University, Fort Collins CO : July 2022
Fall - Powerhouse Regional Youth Conference @ Camp Mack, Milford, IN : November 2021
Multi-Age Events:
Summer - FaithX workcamps
Summer - Northern Ohio District Conference : August 13-14, 2021, virtually from Akron Springfield Church of the Brethren