Ballot, Budget and Reports Information
Northern Ohio District Conference postponed until 2021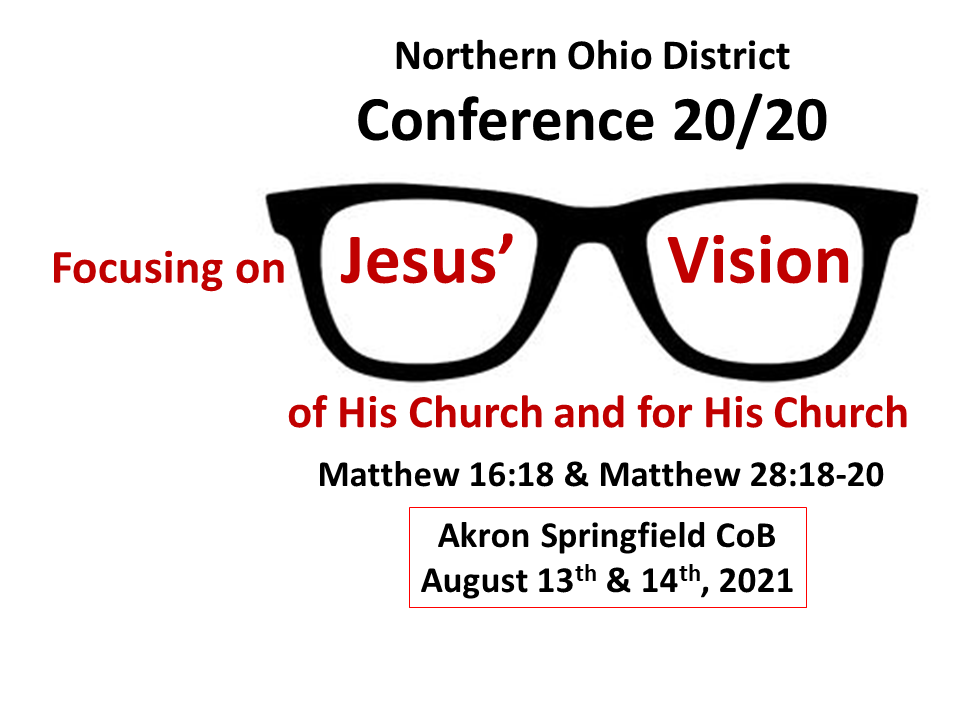 THE THEME, SPEAKERS, AND EVENTS scheduled for 2020 have been postponed until the 2021 District Conference that will be held at the Akron Springfield Church of the Brethren on August 13-14, 2021. Brad Kelley will serve as Moderator and Brian Layman as Moderator-elect.
The District Conference Central Committee (the group that plans our District Conference) spent much time discerning what would be best as they considered multiple options for District Conference this year. While a virtual conference or a delegate-only event for business items were considered, both of those left out many within our District that attend conference each year. After much consideration, the Central Committee made the decision that District Conference will not be held this year (2020) due to safety concerns surrounding the coronavirus pandemic. The District Board affirmed that that recommendation and voted to suspend the rules of District Conference for the year 2020 and that the following procedures be followed:
BALLOT – All those currently serving in elected roles be asked to extend their terms by one year. This includes those serving on District Board, Camp Administration Committee, Nominating Committee, Central Committee (including Moderator, Moderator-elect, Clerk), Standing Committee delegate, and representatives to the Brethren Homes. The board will fill any vacancies through the usual process if needed.
Those persons who names are on the 2020 ballot will be asked to allow their names to be used on the 2021 ballot since no elections will occur in 2020.
BUDGET – The budget approved by District Board at their 05/09/2020 meeting will be used as the budget for the 2021 budget year. This budget is a reduction of $4723.53 from 2020 budget approved by the District Conference delegates.
REPORTS – Annual reports provided each year at District Conference will be sent to congregations in July. These will include (but are not limited to) Financial reports for the district and the camp, District Board reports, Camp Administration Committee reports, Staff reports, and denominational reports.
This book contains those reports. It is being distributed primarily electronically with a paper copy sent to each church for their records. If you would like additional paper copies, please contact the District Office at 419-281-3058.
2019-2020 District Board & Denominational Reports
Brethren Benefit Trust Video Presentation