Youth News
Upcoming Events:
October 21-22, 2017: Sr. High Leadership Series #1
This is the first of three opportunities available for senior high youth to gain leadership skills. We are teaming up with Inspiration Hills Camp to offer overnight leadership retreats where youth will learn about styles of leadership, how to deal with conflict and confrontation, leading with integrity, and much, much more! Learn skills that will be helpful for future CITs, cabinet members, and life in general. Cost is $25 per session. Attend the first two, and come to the third one for free!
Register by clicking HERE. Because this is a camp and district youth event, there are several forms to fill out. Be sure to read the entire registration page!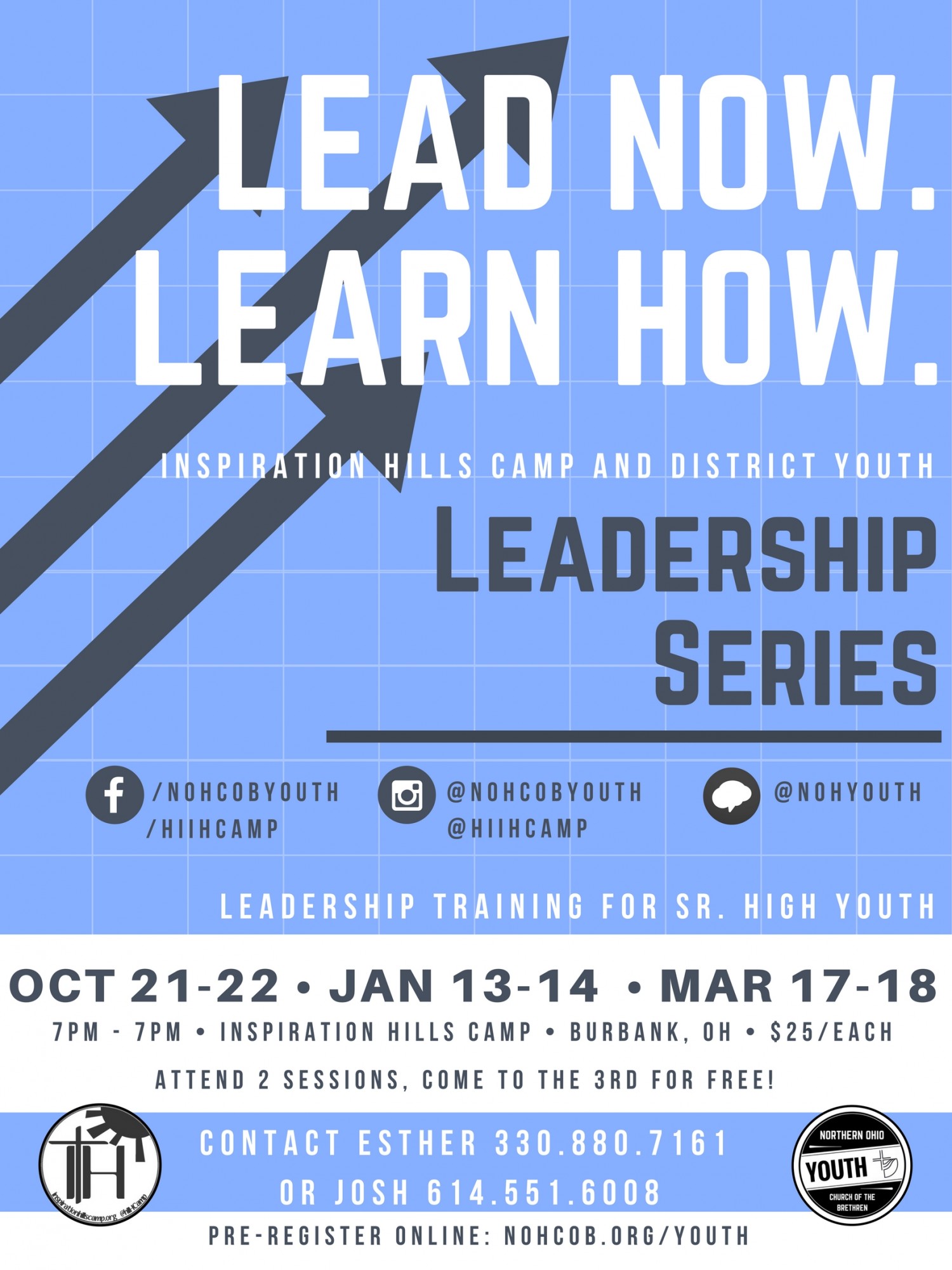 November 3-4, 2017: Recharge Overnighter @Dupont - Jr and Sr High
We are encouraging all youth (Jr & Sr High) to attend this event. There will be no Jr. High Rally! Esther and adult cabinet members will assist in transporting youth who need a ride. All info/registration details can be found on the flyer. Click on image to make larger. Contact Esther if you are need of help with cost or transportation!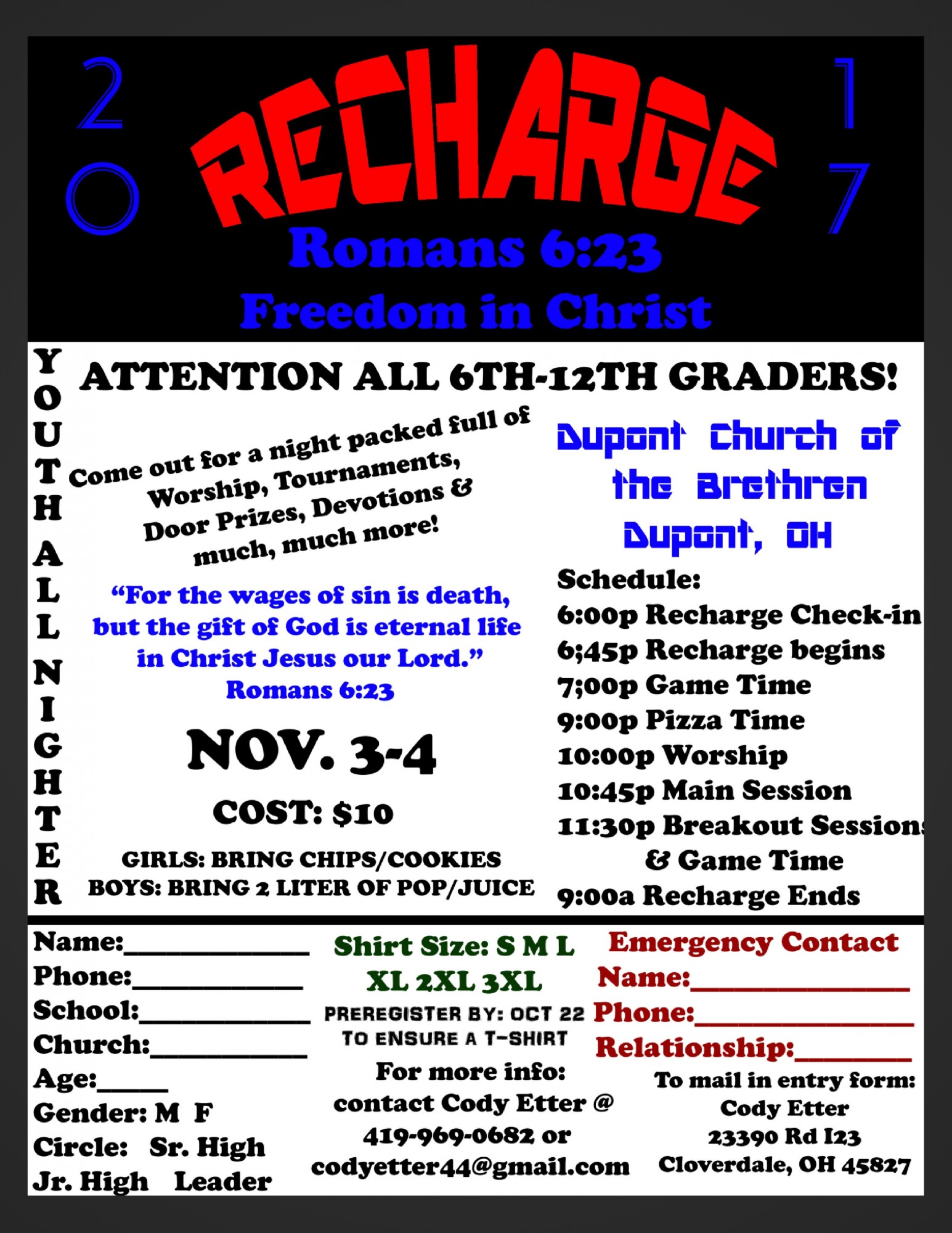 November 17, 2017: Young Adult Progressive Dinner
High School Grads and Up: Meet at the District Office for appetizers. Then, head to 3 more Church of the Brethren locations for soup & salad, main course, and desserts. We finish with desserts at Inspiration Hills where lodging will be provided if needed.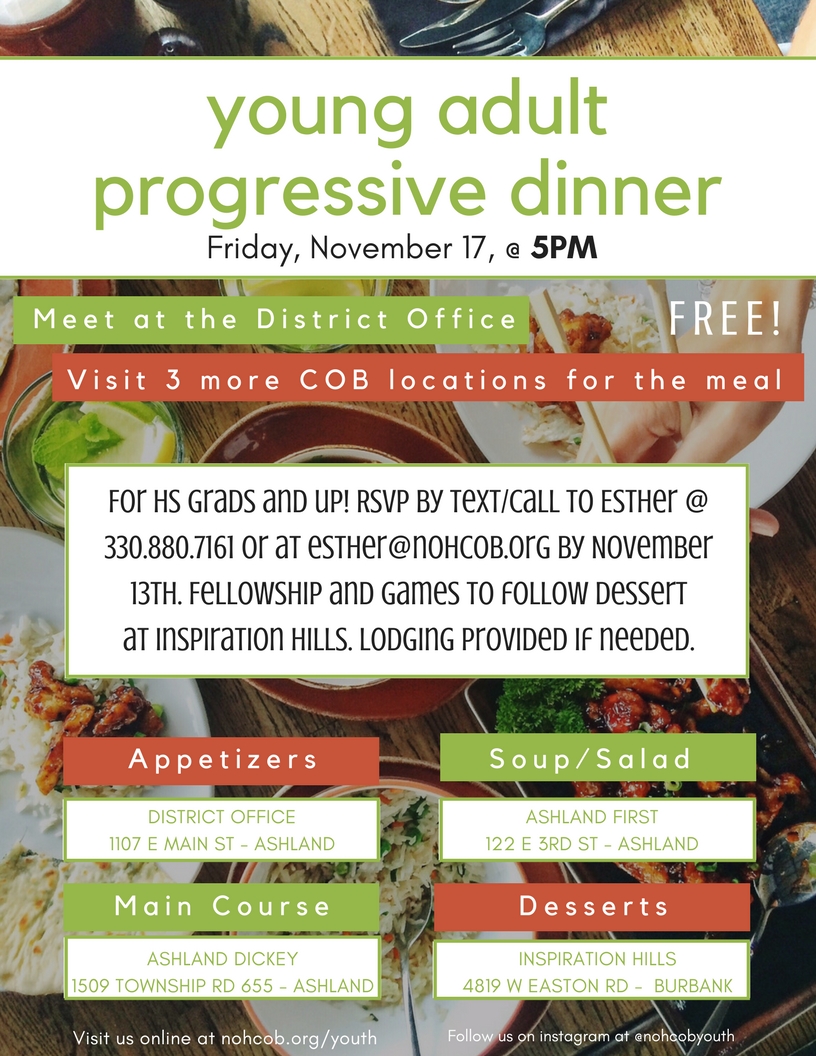 November 18-19, 2017: Powerhouse RYC @ Camp Alexander Mack - Sr High
Click on the flyer below to register. Be sure to print registration forms for Power House and mail them in and bring district registration forms with you.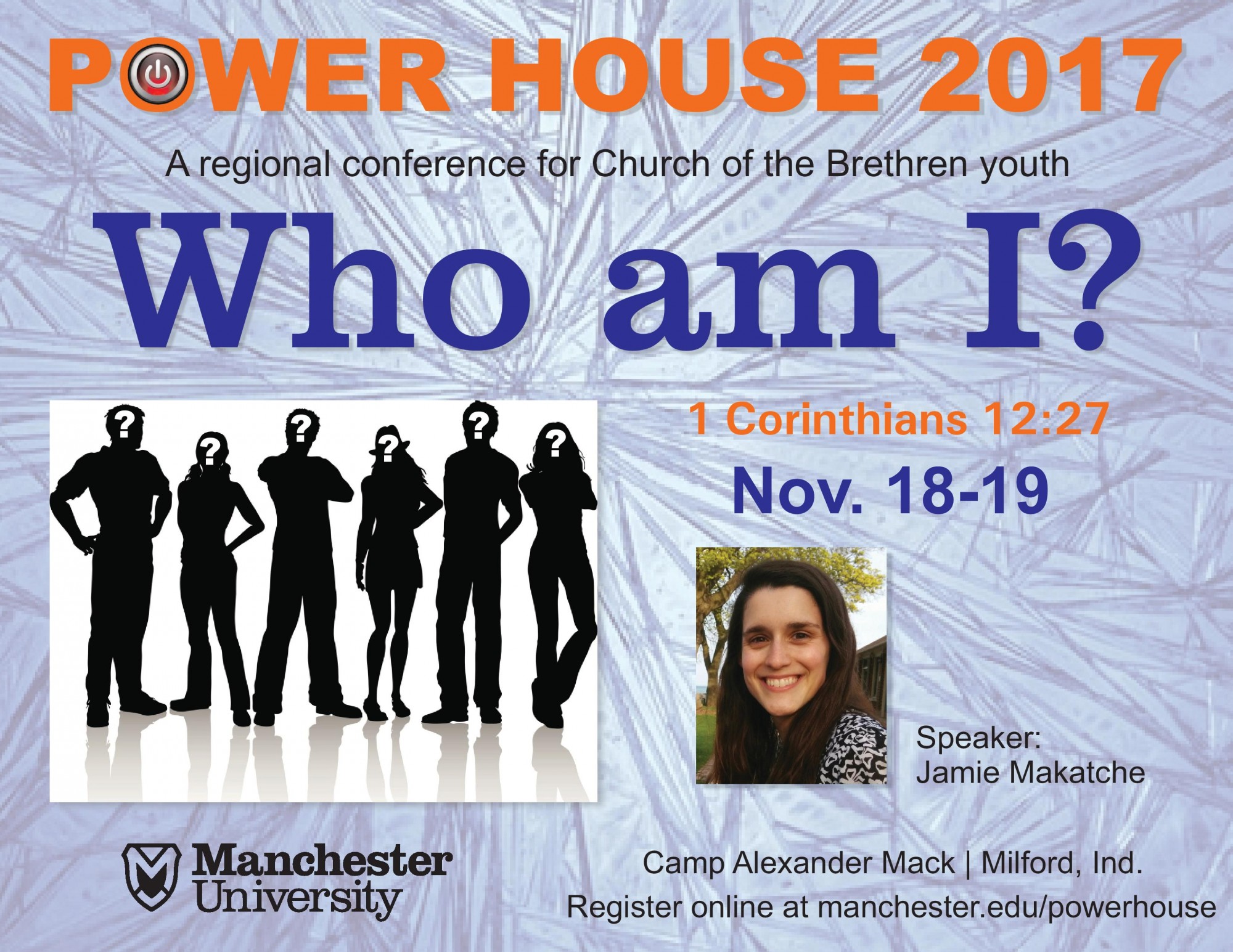 December 1-2, 2017: Sr High Winter Fest @ Camp
December 8-9, 2017: Jr High Rally @ New Philadelphia
January 6, 2018: Youth Leader Training on Sexual Integrity/Pornography
January 13-14, 2018: Sr High Leadership Series #2
February TBA – Area Activities - Jr and Sr High
February TBA – Jr High Rally
March 17-18, 2018: Sr. High Leadership Series #3
April 28, 2018: Service and Fun Day @ Camp - Jr and Sr High
TBA Spring Rallies for Jr and Sr High
July 21-26, 2018: Sr High National Youth Conference
August 3-4, 2018: District Conference
November 12/13, 2016: Powerhouse RYC
November 18/19, 2016: Jr. High Fall Rally
December 2/3, 2016: Sr. High Winter Fest
February 3/4, 2017: Jr. High Winter Rally
February 10/12, 2017: Jr. High Winter Camp
February 18, 2017: Area Events
March 25, 2017: Service & Fun @ Inspiration Hills
July 28-29, 2017: District Conference @Hartville COB
August 18, 2017: Young Adult Game Night

Follow Us!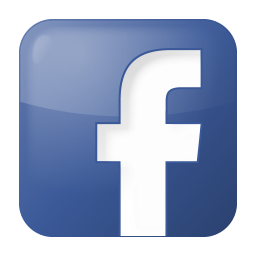 /nohcobyouth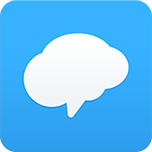 Sign up for texts!
Contact Esther:
(District Youth Coordinator)
330.880.7161
Office Hours: Monday 9AM - 5PM
Visits/meetings welcomed anytime by appointment.
News:
REGISTRATION FORMS: All events require registration forms. CLICK HERE, PRINT, AND BRING these forms with you to the event!
The Fellowship Commission is in process of rebuilding the Advisor and Youth Cabinet for Sr. High. Interested? Have recommendations of youth or advisors? CLICK HERE to fill out a recommendation form.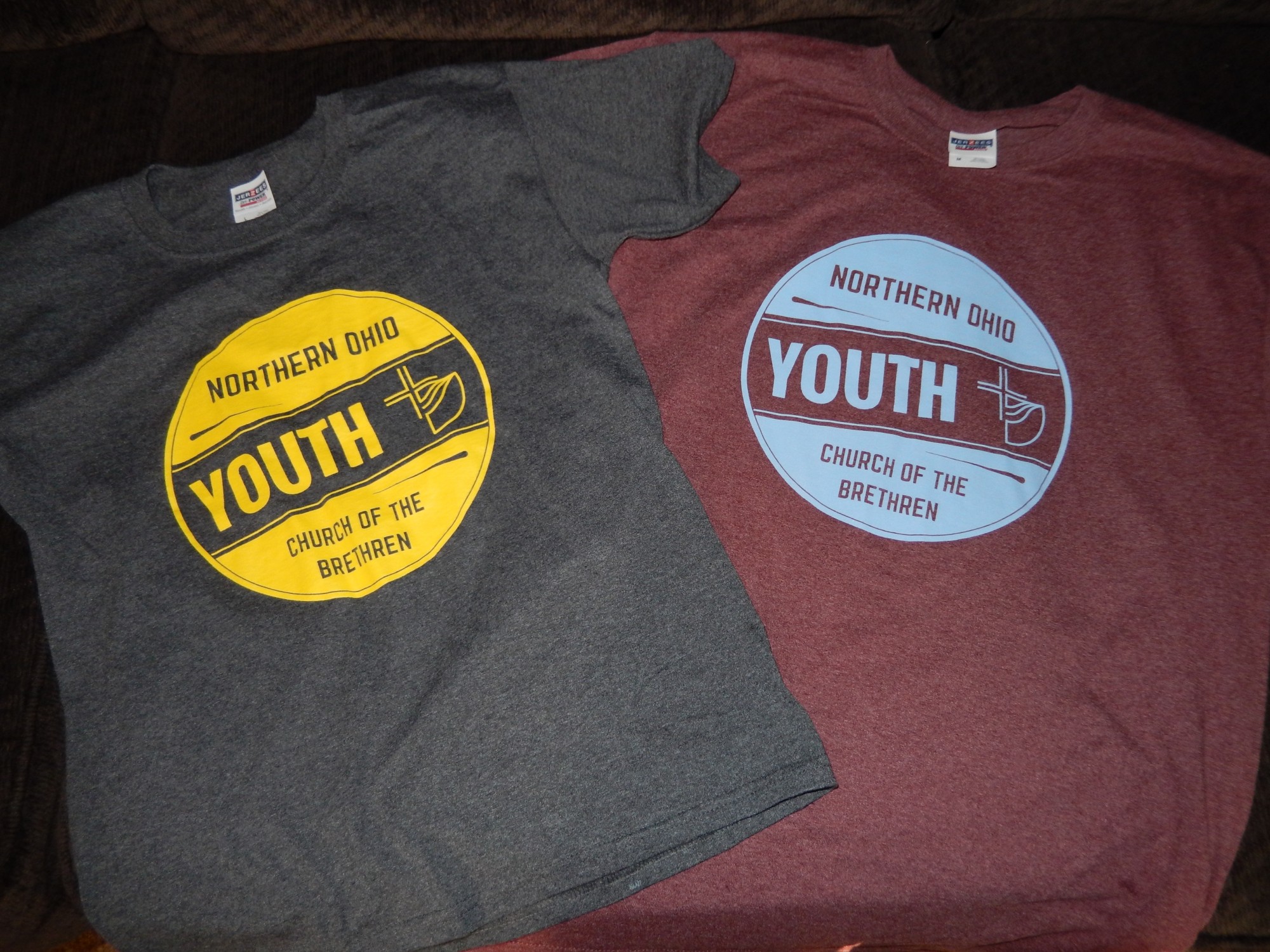 Ask Esther about how you can get your hands on a district youth t-shirt!
Start Planning for NYC!
Join our District Youth at National Youth Conference July 21-26, 2018 at Fort Collins, Colorado! CLICK HERE for more details. More info coming soon.
Click on the pic below to go to NYC's Facebook page.