Disaster Response
Click Here for Puerto Rico Update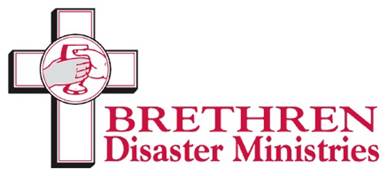 2018 Spring Project
April 15-21, 2018
Saint John AME Church
702 Bobby L Davis Blvd
Marion, SC 29571


Link to 2018 Brethren Disaster Ministries News and Projects
Click Here for 2017 Project Photos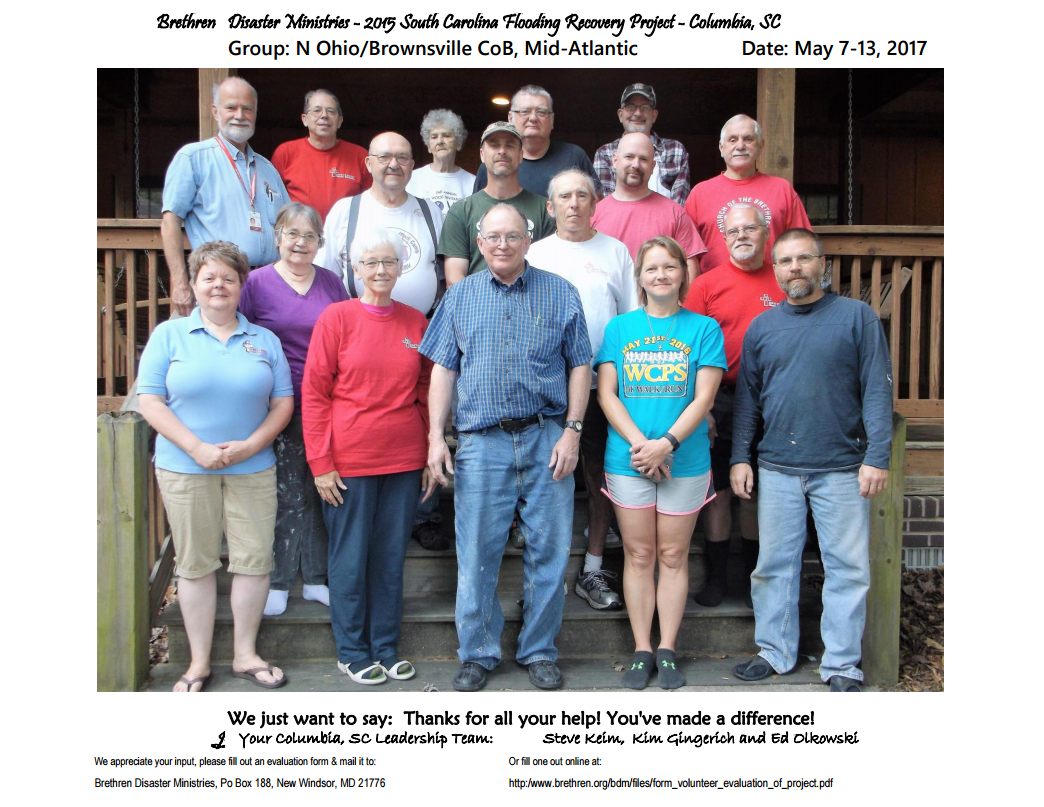 Disaster Ministry Trip




South Carolina May 2017



On behalf of our clients, the BDM staff and your leadership team - we would like to thank you for taking time out of your busy schedules to serve as the hands and feet of Christ to the survivors of the 2015 flooding event in and around the Columbia, SC area. Volunteers like you are what make this ministry successful - we could not do it without you!! THANK YOU!!
Your SC BDM Leadership Team
Fall, October 1-7, 2017
Marion, South Carolina

From: BDM SC
Mon, Sep 4, 2017 8:40 pm
Subject: NEW BDM SITE - MARION, SC
Hi,
We would like to thank you for your prayer support for the team that helped us to move from Columbia, SC and set up at our new site in Marion, SC! The move went smoothly thanks to your prayers! We were able to get everything moved and set-up before our first team arrived yesterday afternoon.

Our partner agencies are excited to have us here and have heard many good things about our organization and volunteers - they are eager to work with you! They have lots of good work ready for us - repairs and new builds....and we have told them that we will provide them with good work crews. That is where you come in!! You are the people that make up those good work crews! Our clients need you! Our partner agencies need you!! We need you to become a part of one of those good work crews!!!

If you can help either next week - Sept 10-16 - or the following week - Sept 17-23 - we would be very happy to have you join us in serving our neighbors in the Marion Co community as they seek to recover from the effects of Hurricane Matthew.
As the one year anniversary is fast approaching, won't you consider lending a helping hand to those that have been displaced for almost a year? If you hear the call of God to serve during one of the above weeks, please let me know ASAP. Thank you for considering this opportunity!
Blessings!
Kim Gingerich
Long-term Project Leader
Brethren Disaster Ministries
Columbia, SC
c: 717-586-1874
bdmsouthcarolina@gmail.com



Happy New Year All!
We have started a new year. What a blessing this past year has been for many who have helped those who suffered through a disaster. The type of disaster does not matter. Thank you to all who have help make their lives a bit better in the year 2016.
In 2017 Northern Ohio is scheduled serve in Columbia South Carolina. We have two dates of service: May 7-13, 2017 and October 1-7, 2017. What a change in scenery. We have not been south in a long time. This should be a very interesting trip and time of service to others.
Contact Brenda Hostetler: hjbrenda@aol.com
or Bob Patalano: mrpatalano@frontier.com

We will be sending out more information throughout the winter and spring. Put these two dates on your calendar and go with us.
Check out important updates via VOAD: